Oil 4 Wales' Nantycaws Filling Station restaurant off the A48 in Carmarthenshire has received background music and audio-visual display solutions from Vaughan Sound.
The family-run business and independent fuel supplier has sites and depots in Llantrisant, Brecon, Milford Haven, Lampeter, Newtown and Blaenau Ffestiniog, but it was at their Carmarthen headquarters that they required our expertise.
Following a meeting with the client to ascertain the project brief and use cases for the new restaurant AV, Vaughan Sound firstly specified a two-zone sound system.
A TOA 120W amplifier was paired with a multimedia player with CD/USB/SD/FM tuner. Vaughan Sound also supplied a mini jack input cable for simple connection of an iPad/iPod or mobile phone. The equipment was installed securely within an existing rack in the Plant Room.
Half a dozen discrete loudspeakers provide background audio to the restaurant area (zone one), while a further pair of outdoor speakers deliver coverage to the external balcony area (zone two).
A 16/7 commercial 49" UHD TV has been installed in a prominent position between the windows, with a pair of smaller 32" commercial monitors fitted on the back wall.
Vaughan Sound included 1080p HDMI distribution for the TVs to enable shared content across all of the displays. The sound from each is also relayed through the new background music system for added audio reinforcement.
Nantycaws Filling Station has been completely transformed after undergoing extensive building and redevelopment works.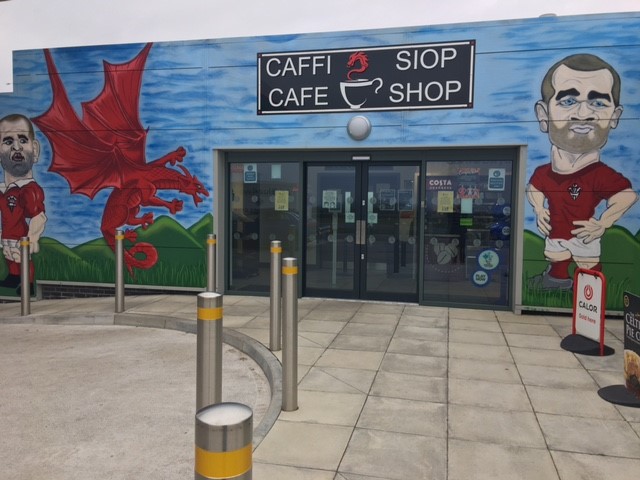 The restaurant, operated under Oil 4 Wales' restaurant brand HollolGymraeg, now benefits from a modern audio-visual and background music scheme befitting the site, which also boasts a new community hub and shop overlooking the Black Mountains.
Key Equipment:
TOA 120W Two-Zone Amplifier
Multimedia Player with CD/USB/SD/FM Tuner
2.4Ghz Digital Handheld Radio Microphone System
100VL Indoor/Outdoor Loudspeakers & Brackets
49" 16/7 Commercial TV
32" Commercial Displays
If you have a requirement for background music, audio systems or commercial displays as your venue prepares for its reopening, then please get in touch today to discover the many ways Vaughan Sound can assist you.