Vaughan Sound has completed upgrades of the audio, control, and AV systems within the Millennium Lounge and President's Lounge at the Principality Stadium – the national stadium of Wales.
We were appointed by Principality Stadium Experience (PSE) – the official provider of match day hospitality and conference and events facilities at the iconic venue in Cardiff.
The project brief saw Vaughan Sound tasked with overhauling the existing AV systems in each lounge, to provide end users with more enjoyable and intuitive solutions, while incorporating much of the equipment already in situ.
For the audio, we retained the client's Allen & Heath iDR-8 digital sound processor and Sennheiser radio microphones, simply adding a further pair along with an Audio-Technica gooseneck model which is fixed to an aluminium lectern.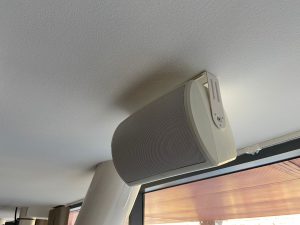 As well as microphones, we included a line level feed into the DSP from the video signal so that PSE now has full control over the audio coming from third party laptops etc. which will be connected into the system.
Vaughan Sound reinforced the audio within the Principality Stadium lounges by adding Tannoy AMS-6DC speakers in a white painted finish, and repositioning the existing TOA F2352C ceiling speakers. Our engineers ensured that all levels and balancing were set up within the DSP programming, and simple controls over the levels, mutes, and preset recalls can easily be performed from the touch panel.
With multimedia projection systems already in place, we utilised existing cabling infrastructure along with additional HDBaseT wiring to the digital display screens at the new positions as required.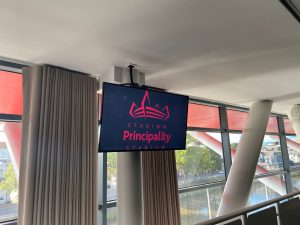 A laptop input plate was also repurposed, with the signal now fed over Cat6 cable into a receiver, before entering the newly installed Blustream MFP72, which distributes all video signals to two separate outputs. These outputs have source selection, which again is controlled via the touch panel.
An audio feed from the switcher to the DSP was also installed.
For in-room control, Vaughan Sound integrated a Crestron RMC4 control processors combined with Crestron TSW-570-B-S five inch touch screen controllers, powered via POE.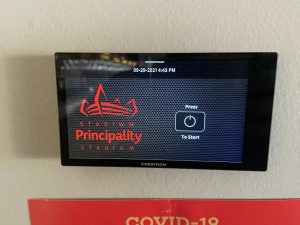 The Crestron control program was written in-house and we were also responsible for the creation and implementation of the branded graphical user interface (GUI).
PSE's logo and colour scheme were brought into the design aspect and deployed to the touchscreens for a completely bespoke corporate solution.
Vaughan Sound has included live feedback from devices to give users that extra bit of confidence when muting microphones and switching sources.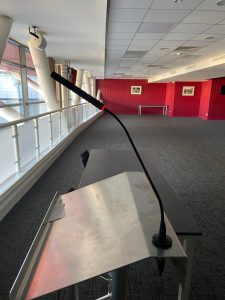 Control over the multimedia projector, electric screen, DSP, and video switcher are provided via IP, RS-232, and relays.
To complete the project, infrared hearing assist systems were fitted to meet DDA compliance regulations.
Upgrade works to a further three Principality Stadium lounges are planned for later in the year.
Key Equipment:
If you require advice on upgrading the AV facilities at your venue, then please get in touch today to discover the many ways Vaughan Sound can assist you.